N J Whittaker are extremely proud to be sponsoring the upcoming Naomi Cleaver Masterclass at Combe House, Nr Honiton on 10th May 2014.
The topic of the masterclass is "The Real Trade Secrets of Designing your Perfect Home" and Naomi will be giving you one-to-one practical advice at this intimate and unique opportunity. A representative from N J Whittaker will also be at hand during the day to answer any questions you may have.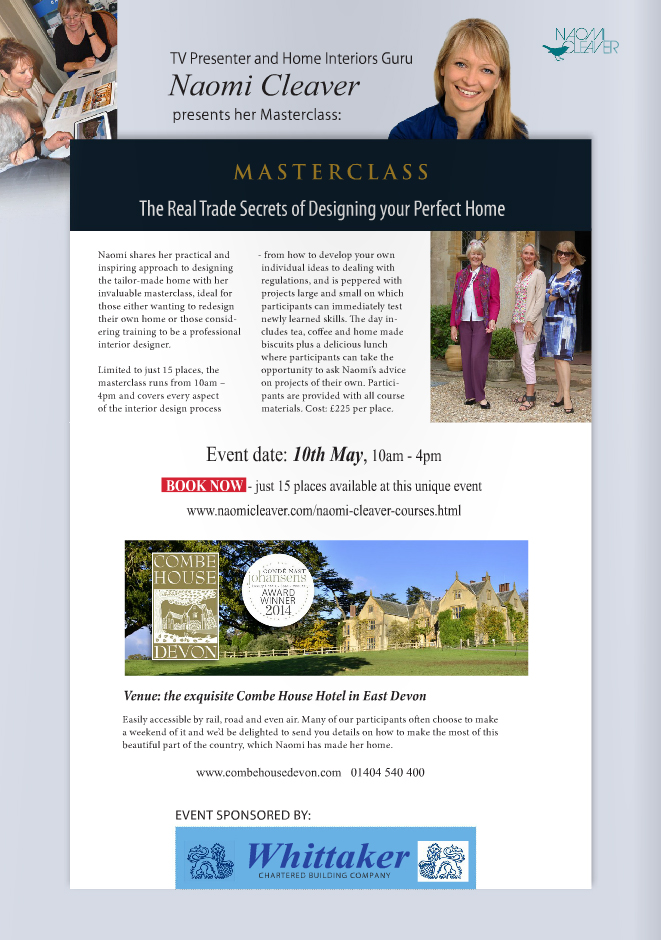 Here is a little introduction to what you can expect:
Naomi shares her practical and inspiring approach to designing the tailor-made home with her invaluable masterclass, ideal for those either wanting to redesign their own home or those considering training to be a professional interior designer.
Limited to just 15 places, the masterclass runs from 10am – 4pm and covers every aspect of the interior design process – from how to develop your own individual ideas to dealing with regulations – and is peppered with projects large and small on which participants can immediately test newly learned skills. The day includes tea, coffee and home made biscuits plus a delicious lunch where participants can take the opportunity to ask Naomi's advice on projects of their own. Participants are provided with all course materials. Cost: £225 per place.
For more information, visit Naomi's website on the following link:
Naomi Cleaver's Masterclass:
The Real Trade Secrets of Designing your Perfect Home.
http://www.naomicleaver.com/naomi-cleaver-courses.html